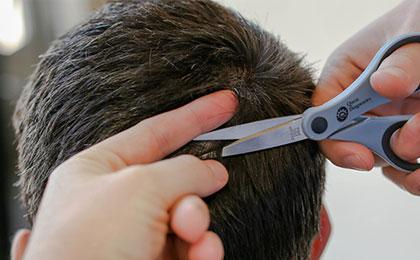 Drug tests that are done on hair follicles can not only offer information about the drugs that you have used but at the same time, it will also list information regarding the quantity of drugs that you have used along with any historical patterns that may be present. Hair drug testing is a form of drug testing that is known to offer huge amount of data. Most of the other drug testing procedures are not likely to offer a lot of information. Even a very little amount of drug metabolites have a tendency of being trapped in our hair core at a rate that can be said to be approximately half an inch per month.
When a lab analysis of the hair strand is done, it will give a fairly accurate drug history record. It generally takes 5 days for the drugs to start appearing in the hair and will remain for a period of around 90 days. This test will generally include the five most abused drugs: Marijuana, Cocaine, Opiates, Benzodiazepine (Xanax, Valium are the most popular brands), and Methamphetamine.
Today, substance and alcohol misuse is widespread with children from small ages using drugs in their schools as well as their neighborhoods. Especially psychoactive drugs which are banned by the law are easily available and accessible to most people who are interested in it. Tests like the hair follicle drug tests are used to detect whether an individual has taken any illicit drugs.
Hair follicle drug tests are considered very accurate and are also used as evidence in legal cases to prove substance abuse. Hair follicle test samples can be easily collected with the help of test kits readily available in the market. These kits usually also come with sample collection and shipping materials to ensure proper and accurate drug testing. Home hair drug test kit is easily available and is an effective means to check substance abuse. It can be used every three months to ensure that the person being tested is not using drugs.
So how do I pass my hair drug test?
So you have a hair drug test coming up, and you are likely asking yourself "how do i pass my hair drug test?" Well, as you may be aware hair drug tests are highly accurate and provides a lengthy history to your drug usage – on average, every 1/2 inch of hair provides about 30 days of history. The longer your hair is, the more history it provides. As you can imagine, passing a hair drug test is quite a daunting task.
Fortunately for you, we have perfected a proven method of detoxing your hair that actually works! The method, famously known as The Macujo Method is guaranteed to lower your toxin levels in your hair to a point that is completely undetectable by any lab. It will take time and effort on your part, and we recommend starting sooner then later. Head on over to the Macujo Method page for more information and step-by-step directions. If you have any questions, please feel free to call.
Popular drugs tested in Hair Drug Tests
Marijuana is one of the major drugs being used for recreational purposes. It is a psychoactive drug and has been widely used as a drug since 3rd millennium BC. It is believed that nearly 4% of world adult population uses marijuana annually. It is the most widely used psychoactive drug in the world.
Cocaine is another highly addictive substance and acts as a stimulant; it suppresses the appetite as well as acts as an anaesthetic. It has been used in medicine as well as a recreational drug for centuries. It is a highly popular drug as it is the psychoactive chemical which is most efficient is passing through the blood brain barrier.
Heroin is another highly addictive drug which was synthesized in 1874. It is an opiate analgesic which is used to reduce very strong pain usually associated with heart attacks. Due to its association with popular cultures especially like music and arts it is quite attractive to teenagers and thus results in large amount of substance abuse by youngsters. Many other popular drugs such as amphetamines, codeine, morphine, LSD etc. are being used specially due to media and pop culture.
Recommended Products for a Hair Drug Test